Accelerate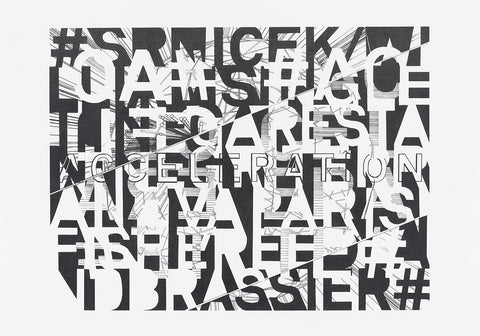 Accelerate, 2014
Diann Bauer

Digital print on Offenbach Bible Paper                         
Approximately H. 12 ½ x W. 17 ½ inches (31.75 x 33 x 44.45 cm)
Edition of 25
$140 - To order contact post@sequencepress.com

This limited edition print is from the series of drawings created for #Accelerate (Urbanomic/Merve, 2014). The poster-size print comes with a copy of the book.
Diann Bauer studied art and architecture at Cooper Union and Goldsmiths College. Her work deploys a language of visual force across disciplines, including drawing, sculpture, painting, printmaking, installation, architecture and video. Bauer's work has been exhibited in institutions, art galleries and other non-traditional gathering places internationally since the early 1990's, notably at the ICA, Vilma Gold, Cell Projects, The Drawing Room (all in London), as well as Deste Foundation and Benaki Museum in Athens, Ian Potter Museum of Art, Australia, and White Box, The Dorsky Museum and Socrates Sculpture Park in New York. This year, she participated in a group show in conjunction with Accelerationism: A symposium on tendencies in capitalism at Kraupa-Tuskany Zeidler, Berlin. She was awarded a British Council Residency in Hanoi, Vietnam, and is an Elephant Trust and Arts Council England grants award recipient. Bauer has taught at several institutions including the Cooper Union and Cornell School of Architecture, Art, and Planning in New York, and Goldsmith's College and the University of the Arts in London.