The Medium of Contingency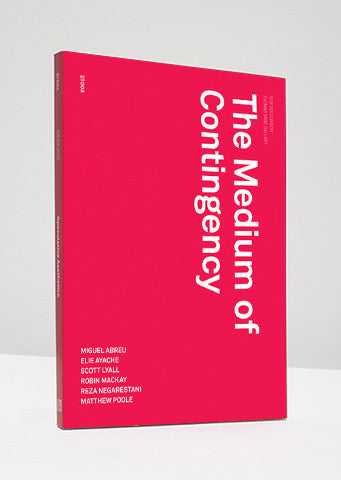 The Medium of Contingency
Robin Mackay (Ed.)
Published by Urbanomic
Reissued edition, September 2015
Original edition published in 2011
   by Urbanomic and Ridinghouse
Editor: Robin Mackay
Paperback 148x210mm, 78pp.
Black and white photographs.
ISBN 978-0-9930458-9-9
Why has the concept of contingency taken on a marked importance both in contemporary philosophy and in contemporary art practice? And if this simultaneity derives from parallel problems met within the two different fields, what are their common roots? 
Beyond acknowledging the contingent nature of tradition, institutions, and practices, recent speculative philosophies of 'absolute contingency' demand a radical revision of the ways in which we conceive of our interaction with unknowable materialities, and pose a challenge to both probabilistic management and process-driven affirmation of contingency.
The book documents the event held at Thomas Dane Gallery in February of 2011 that coincided with the show entitled New York to London and Back. The show featured work by Kristen Alvanson, Hans Bellmer, Liz Deschenes, Thomas Eggerer, Rachel Harrison, Gareth James, Alison Knowles, Sam Lewitt, Scott Lyall, R. H. Quaytman, Eileen Quinlan, Raha Raissnia, Jimmy Raskin, Blake Rayne, Pamela Rosenkranz, Pieter Schoolwerth, Amy Sillman and Cheyney Thompson.
In an unprecedented overlapping of the contexts of philosophical, financial, and art worlds, The Medium of Contingency event brought together in discussion Robin Mackay, Reza Negarestani, Elie Ayache, Matthew Poole, Miguel Abreu and Scott Lyall. This publication includes presentations by each of the participants and an edited transcript of the discussion.
Contents
ROBIN MACKAY - Introduction: Three Figures of Contingency
REZA NEGARESTANI - Contingency and Complicity
ELIE AYACHE - In The Middle of The Event
MATTHEW POOLE - Art, Human Capital, and the Medium of Contingency
MIGUEL ABREU, ELIE AYACHE, SCOTT LYALL, ROBIN MACKAY, REZA NEGARESTANI, MATTHEW POOLE - Discussion
NOTES ON CONTRIBUTORS
NEW YORK TO LONDON AND BACK
: LIST OF WORKS
The Medium of Contingency
Thomas Dane Gallery, London, January 19, 2011